BT fined for failings in £260m deal with Cornwall Council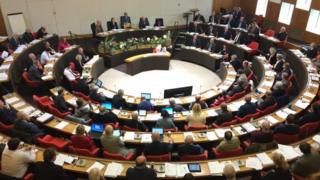 BT has been fined more than £100,000 by a local authority for failures to deliver in a £260m deal.
The communications giant took over back-office services such as information technology and human resources at Cornwall Council in 2013.
A damning council report has revealed falling standards and only a tenth of the 351 jobs forecast have materialised.
BT said it was working closely with the council to improve the situation.
A council report says BT has received nearly £25m in respect of services provided over the first two years of the contract.
The state of service delivery has been "generally downward" since BT took over, according to the council, with just 38% of targets delivered.
BT was contractually committed to deliver 111 jobs in the first two years and said it would try and deliver a further 240 jobs within the same period.
Only 35 jobs have been delivered and the council report said "there was little evidence of remediation plans or investment required to deliver on the jobs guarantee and commitment".
Management changes
The controversial deal forced the departure of council leader Alec Robertson in 2012 and was slimmed down before getting council approval.
Steve Double, newly-elected Conservative MP for St Austell and Newquay, was Cornwall Council's cabinet member for shared services at the time.
He said: "What ended up being put in place was not really big enough. It didn't include enough services and there was also concern that it may not achieve what the original plan was intended to achieve."
Cornwall Council said BT Cornwall had made changes to its senior management team in response to the council's concerns.
BT said it was working closely with the council to deliver on all aspects of the contract and was making good progress.