Crime commissioner Tony Hogg to spend £500,000 on move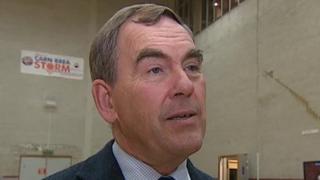 The crime commissioner in Devon and Cornwall will spend £500,000 on relocating his offices to police headquarters, the BBC has learned.
Commissioner Tony Hogg previously said such a move would not be "appropriate" because of his need for independence.
A Labour councillor said she was "astonished" by the cost involved
The commissioner's office said the move represented "value for money" and independence from the force would be maintained.
Mr Hogg currently rents office space at Pynes Hill Business Park in Exeter, which costs approximately £100,000 a year.
In 2016, when the lease runs out the commissioner plans to move less than a mile to the Middlemoor complex, where the chief constable and senior officers are based.
A location has been identified, but it will require renovation work.
Andrew White, chief executive of the Office of the Police and Crime Commissioner, said: "The cost of the move will be in the region of £500,000, which will be repaid in 4-5 years.
"We have thought hard about this and believe we can achieve value for money while still maintaining our independence from the force."
However, Exeter City councillor Rachel Sutton, a Labour member of the Police and Crime Panel, said: "I was astonished to hear that he wants to move because he was making a great deal of the need to be independent of the constabulary."
---
Analysis
Simon Hall, BBC South West correspondent
In just two months' time, this row about where Tony Hogg should be based could become irrelevant.
For the Conservatives, Police and Crime Commissioners are a flagship law and order policy, but both Labour and the Liberal Democrats are committed to abolishing them.
Whether they have a future will depend upon the outcome of May's General Election.
---
Devon and Cornwall Police has to save another £9m in the financial year 2015-16, on top of £51m in cuts made over the last four years.
In 2013, Mr Hogg was criticised for using accommodation allowances to stay at the Royal Marine Commando Training Centre in Lympstone, rather than Middlemoor.
At that point, he said: "My role is all about holding the chief constable and the police force to account on the public's behalf, and therefore it is not appropriate for my office, or my accommodation, to be sited there."
The commissioner currently has 23 staff in his office.