Arctic bowhead whale seen off Isles of Scilly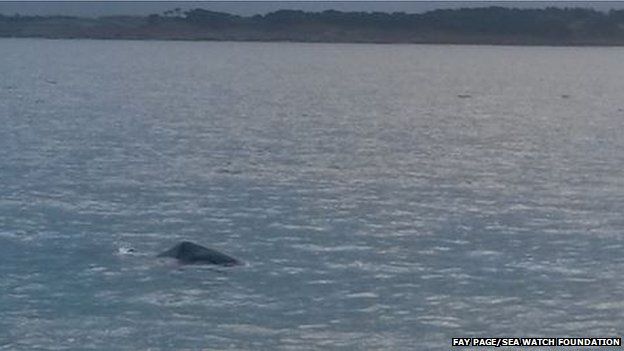 A bowhead whale rarely spotted south of the Arctic has been seen off the Isles of Scilly, wildlife watchers say.
Bowhead whales are normally found 2,000 miles (3,200km) further north, Sea Watch Foundation said.
The young whale was seen by professional diver Anna Cawthray a few metres off Par Beach on the island of St Martin's.
Sea Watch said it was "extraordinary" to see a bowhead in British or European waters.
Scientific name: Balaena mysticetus
Common names: Arctic whale, Greenland right whale
Second only in size to the mighty blue whale.
May live for more than 100 years, possibly up to 200 years.
Ms Cawthray, who lives on St Martin's, photographed the whale, which she saw while walking with friends on 20 February.
"It was incredible seeing a whale so close to shore," she said.
"We were worried it could be stranded, but after about 15 minutes it swam away.
"You tend to see a lot of dolphins and porpoises on the Isles of Scilly but this was very special. It was a once in a lifetime experience."
Sea Watch founder Dr Peter Evans said: "Bowhead whales are unusual amongst whale species in being largely confined to the coldest parts of the world, generally never far from the ice edge."
He said the whale may have come from around Greenland, where numbers have been increasing.