Cornwall Health takes over out-of-hours GPs service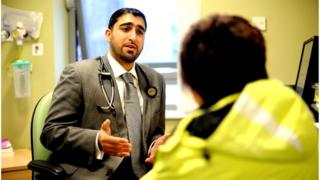 A new out-of-hours doctors operator is to take over in Cornwall after Serco dropped out early following criticism of its service.
Cornwall Health, led by Devon Doctors, with Kernow Health, will take over the £8m-a-year contract from 1 June.
Serco agreed to end its contract 17 months early after failing to meet national standards and reports of some staff falsifying data.
NHS Kernow said Cornwall Health would get the service "back on track".
Out of hours services provide urgent care when a patient's GP surgery is closed and they have a medical problem that cannot wait until it reopens.
Stephanie Gray-Roberts, Serco's contract director for the Cornwall Out of Hours GP service, said the organisation had decided not to rebid.
She said: "For some time now we have been delivering a high quality service that meets all of our contractual obligations and the service consistently achieves an independently assessed patient satisfaction score of 95% or above.
"We will work closely with NHS Kernow and Cornwall Health to ensure a safe and effective transition."
Devon Doctors, which was created in 1996, took over out-of-hours services in Devon in 2004. Its contract in Cornwall is for two-and-a-half years initially.
Dr Mike Ellis, Cornwall Health's medical director and a Penryn GP, said: "We are pleased to be given the opportunity to work with the practices of Cornwall to provide this service.
"We believe that it will enable us to offer more integrated care, uniting out of hours with primary care and other local health services.
"It should be good news for Cornish patients and practices, as well as the urgent care services of Cornwall and Devon."
Andrew Abbott, director of strategy at NHS Kernow, said: "The GP out-of-hours service is a critical part of the local urgent care system and we will be monitoring it very closely to ensure that it provides the outcomes that patients expect and deserve."
In July 2013, a parliamentary report by the Public Accounts Committee found the out-of-hours service was "not good enough" and said Serco had struggled to ensure enough staff were available to fill all its clinic and car shifts.