Truro swordsman Richard Bonehill dies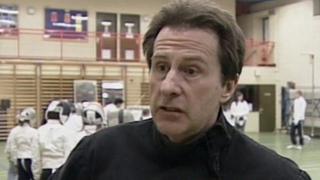 A man who built Truro Fencing Club into a centre of training excellence and appeared in early Star Wars films has died aged 67.
Richard Bonehill oversaw the development of three Olympic athletes at the club as well as several World Cup medallists.
He became Veterans Sabre World Champion in 2010.
He worked in the film industry for 30 years with appearances in Star Wars, Highlander and Doctor Who.
Mr Bonehill was head coach of the club for 12 years until 2007 and was president when he died.
Jon Salfield, who took over as head coach from Mr Bonehill, said: "He is irreplaceable, such a motivator and he gave his time so generously.
"He was a huge character, forthright but always honest and hardworking."
Club member Kiera Sleeman tweeted: "R.I.P Richard bonehill, very respected man and will be greatly missed."
In 1979, Mr Bonehill worked on The Empire Strikes Back and in 1982 on Return of The Jedi as a stormtrooper, among other characters.
His skills as a swordsman also brought him work as a double and fight director.
The reason for his death has not yet been revealed.