Bude Stratton Hospital ward closes over fire fears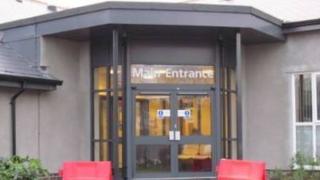 The inpatient ward at a Cornwall hospital is to close for a month, less than two years after a major revamp.
It follows the discovery of a number of problems during a routine fire inspection at Bude Stratton Hospital in November 2013.
Staff immediately reduced the number of inpatient beds to six and more significant work on fire detectors and alarms will start on Monday.
The minor injuries unit, X-ray and outpatients services will remain open.
The hospital was reopened in March 2013 after a makeover designed to create a "21st Century community hospital".
Candy Baker, chairman for the League of Friends said she was "disappointed that NHS Property Services have not worked sooner to resolve these important issues".
She said that patients had not been put in danger "of any sort".
She said: "People wanted to be treated locally so we immediately reduced the number of beds to give one-to-one care.
"I am obviously saddened that after all of the fundraising efforts of the local community and the support of Peninsula Community Health, we have to see the inpatient ward area close on a temporary basis."
James Wakeham, of NHS Property Services, said: "We recognise the short term inconvenience this temporary closure may cause but felt it was necessary to ensure disruption to patients was minimised and safety not compromised.
"The temporary closure of the inpatient ward at Stratton Community Hospital will allow us to fully resolve the situation quickly and efficiently."