Flood warnings rise in Devon and Cornwall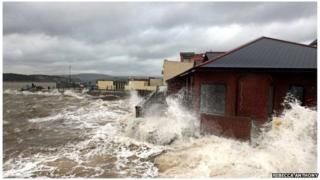 Flood warnings in Devon and Cornwall have increased dramatically in the last nine years, according to figures obtained by the BBC.
Last year there was a total of 32 severe flood warnings, more than double the previous highest annual figure of 13 in 2012.
The Environment Agency said the rise could be down to more sophisticated warning systems, which began in 2010.
It also said climate change could be contributing to the rise.
The three levels of warnings are:
Flood alert: Flooding is possible. Be prepared.
Flood warning: Flooding is expected. Immediate action required
Severe flood warning: Severe flooding. Danger to life.
There was an average of 199 flood alerts, warnings and severe warnings issued in Devon and Cornwall, from 2006 to 2011, the agency's figures show.
But in 2012, the total was 787, in 2013 it was 410 and last year it was 494.
Devon and Cornwall flood alerts
Flood alerts
Flood warnings
Severe flood warnings
Total
2006
121
42
0
163
2007
144
39
0
183
2008
198
98
7
303
2009
194
49
0
243
2010
104
27
0
131
2011
162
9
0
171
2012
459
315
13
787
2013
309
101
0
410
2014
290
172
32
494
An Environment Agency spokesman said: "There has been an ongoing effort to improve our Flood Warning Areas through better mapping and modelling, to make them more targeted and community specific.
"Climate change may also be a factor in the rise in flood alerts, or it could just be an unusual run of very wet weather."
---
Analysis: Simon Hall, BBC South West Home Affairs Correspondent
These figures will rekindle the debate about whether climate change is having an increasingly marked effect on Devon and Cornwall's weather, although scientists say only a much longer-term trend can provide real evidence of that.
But the statistics do confirm one thing which most people will have already suspected, that the last three years have been exceptionally wet.
---
Christine Whitehead, from Stoke Canon, near Exeter, whose home was flooded in 2012, was positive about the increased number of alerts.
"It helps you to prepare, by doing things like moving your furniture and valuables upstairs," she said.
But Gerald Butt, who was also flooded in 2012 in Stoke Canon, said the warnings made no difference.
"If it's going to flood, it's going to flood, simple as that. Nothing gets in the way of the weather."