Patient tested for Ebola at the Royal Cornwall Hospital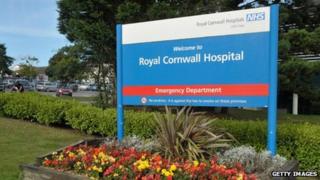 A patient is being tested for Ebola in Cornwall.
The Royal Cornwall Hospital in Truro said the patient had been admitted and is undergoing a series of tests, one of which is for Ebola.
Public Health England said the patient had recently flown from a West African country affected by Ebola.
A spokesman said it was "unlikely" the patient in Cornwall was on the same flight into Heathrow as a Glasgow nurse being treated in London for the virus.
Public Health England said the Cornish patient was "low risk" and her contact history was not currently being traced.
The spokesman said samples had been sent to the Porton Down research centre in Wiltshire and results of the tests would be known "any time between tonight and tomorrow morning".
The Royal Cornwall Hospital said the patient was being looked after in isolation.
The spokesman said: "Royal Cornwall Hospitals NHS Trust has been following national guidance around Ebola and made plans in line with advice from NHS England."
Pauline Cafferkey, the Glasgow nurse who was diagnosed with Ebola after returning to Scotland from Sierra Leone has arrived at a specialist treatment centre in London.
The Ebola virus has claimed more than 5,000 lives during the current epidemic in West Africa, the largest outbreak since it was discovered nearly 40 years ago.
People can be infected when they have direct contact through broken skin, or the mouth and nose, with the blood, vomit, faeces or bodily fluids of someone with Ebola.