Dead cow washed up on Torpoint beach removed after five days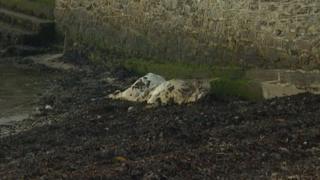 A dead cow was left rotting on a Cornish beach for almost a week.
The animal was found on the Torpoint foreshore on Monday but was only removed after the BBC filmed the carcass.
Mike Watkiss, whose property overlooks the beach, said he struggled to find someone to take responsibility for clearing it away and said residents were angry.
Contractors for Cornwall Council removed the dead animal on Friday.
Mr Watkiss said he contacted authorities on Monday and was told the job was a priority and the carcass would be removed in 24 hours.
He said: "People have been banging on our door asking what we're doing about it.
"I've tried so hard to get someone to do something but nobody does anything but pass the buck."
A spokesman for Antony Estates, which owns the land, said the animal was being removed on Friday.
A Cornwall Council spokesman said the owners of the cow had been identified and the cost of its disposal would be passed on to them.