Baby wallaby dies after Isles of Scilly crash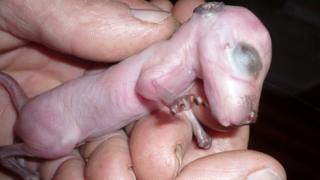 A baby wallaby that was found in the pouch of its dead mother on the Isles of Scilly has died despite efforts to save it.
The baby was found after the body of its mother, thought to have been hit by a car, was discovered on a road.
Its mother had escaped from a private zoo in St Mary's and had been on the run for a month.
Vet Heike Dorn, who tried to keep the baby alive, said it died at the home of zoo owner Steve Griffin on Tuesday.
Ms Dorn had used an artificial pouch made from an old oven glove and fed it with soya milk.
She said: "The wallaby was with his owner who fed him every few hours.
"But, the last time he went to feed the wallaby it was dead and he doesn't know why."
The mother was found in the Porthmellon Industrial Estate area on Monday.
Islanders had reported a number of sightings of the missing wallaby over the past four weeks.