Lucie Bray inquest: Health services were 'sluggish'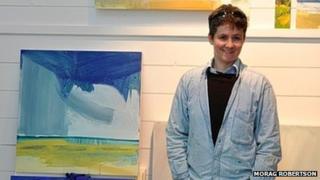 Mental health services were "sluggish" in the case of an artist found dead on a Cornish beach, a coroner has said.
The body of Lucie Bray was found on a beach near Constantine Bay, north Cornwall in January, a month after she was talked down from a cliff edge.
The inquest in Truro heard Ms Bray was under the care of doctors at Longreach House mental health unit in Redruth.
Ms Bray, 39, had produced many hundreds of land and seascapes which have been sold all over the world.
Staff shortages
The inquest heard Ms Bray, from St Ives, had been talked down from the cliff edge by police officers last December.
She was then admitted to Longreach but it was eight days before she was seen by a consultant.
Cornwall assistant coroner Andrew Cox was also critical of previous health care when no community psychiatric nurse had been available due to staff shortages.
However, Mr Cox said he did not believe the delays would have affected the outcome.
Ms Bray worked from a studio at Porthmeor in St Ives and used a specially designed tent for her outdoor work on beaches around the town.
Longreach and mental health care in the county are run by Cornwall Partnership NHS Foundation Trust.
Mr Cox said he could not be sure Ms Bray had intended to kill herself and recorded an open verdict.
Following the hearing Ms Bray's partner, Morag Robertson, said she hoped the NHS Foundation Trust would "take up" the coroner's comments.
She said: "There are hundreds of people who have one or more of Lucie's wonderful paintings and who derive immense joy from seeing them every day.
"Let that be her legacy."