Supermarket plans to pay for £10m Cornwall stadium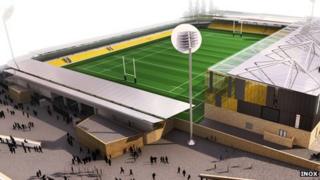 A £10m stadium for Cornwall is a step closer after backers agreed a finance deal.
The stadium development depends on plans for a commercial development near Truro being approved by Cornwall Council early next year.
Development company Inox said money raised from a supermarket deal could fund the building of the stadium.
Inox has agreed to contribute £8m with Truro and Penwith College adding £2m to build a 6,000-seat stadium.
Inox, the Cornish Pirates, Truro and Penwith College and retail development company Henry Boot Developments signed a memorandum of understanding to work together to develop the stadium.
The stadium would be home to the Cornish Pirates rugby club and provide a venue for concerts and conferences.
'Enormous benefit'
The plans have been scaled back and the 6,000 capacity would not initially allow the Pirates, who are in English rugby's second tier, to play in the Premiership, which requires a ground to have a 10,000 capacity.
Rob Saltmarsh, managing director of Inox, said the memorandum of understanding "sets out a roadmap for its delivery and operation".
"We hope the enormous community benefit the stadium will deliver for Truro and Cornwall will be a deciding factor when it comes before Cornwall Council's planners," he said.
The planning proposal is expected to be heard in January, together with rival plans for supermarkets in Truro.
Ian Connell, chairman of the Cornish Pirates, said a home in the centre of the county would lead to an increase in attendance.
Martin Tucker, director at Truro and Penwith College, confirmed a contribution of £2m towards the cost of building the stadium.
He said the stadium would provide a home for business, catering and sports departments.
Julian Painter, from Henry Boot Developments which would deliver the retail development, said both Asda and Morrisons were interested in the site.