Cornwall to get 35 mobile phone masts in £5m package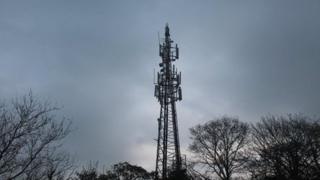 In a bid to improve mobile phone coverage Cornwall is to get 35 new mobile phone masts around the coast, the BBC understands.
The £5m plans for Cornwall are part of the government's £150m Mobile Infrastructure Project.
Prime Minister David Cameron has highlighted the poor coverage he has experienced on holiday in Cornwall.
The Campaign for the Protection of Rural England (CPRE) said new masts should be "a last resort".
Rob Nolan, chairman of Cornwall Council's strategic planning committee, said representatives from the Department for Culture, Media and Sport (DCMS), came to brief councillors on forthcoming plans for 35 mobile phone masts.
He said: "The government is putting up £5m to bring mobile telephone coverage to around 35 communities in Cornwall that currently have no signal at all.
"There are obvious benefits, but also concerns, especially the impact on the landscape, as these will tend to be in remote areas, often on the coast."
'Minimise impact'
Mr Nolan said the planning committee would deal with each application separately.
The telecommunications company Arquiva was appointed to deliver the Mobile Infrastructure Project.
A DCMS spokesman refused to discuss any plans for Cornwall but said: "We're investing up to £150m to improve mobile coverage in areas where there is currently no coverage.
"We are currently identifying suitable sites, acquiring the rights to install infrastructure on those sites and then securing planning permission."
Orlando Kimber, CPRE Cornwall spokesman, said: "New masts should only be erected as a last resort. Whatever happens, the impact on the countryside of masts and antennae needs to be minimised through good design and careful siting.
"If we want to protect what's most valuable in Cornwall, we have to get our planners to work much harder."