Cornwall Council approves £196m savings plan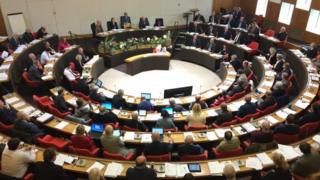 Cornwall Council has approved a four-year budget strategy aimed at cutting spending by nearly £200m.
The full 123-seat council approved the strategy on Tuesday. Its cabinet said it was to save £196m between 2015-2019.
The cabinet previously said the council had to make cuts as government spending squeezes were continuing and demand for services was growing.
The Liberal Democrat-Independent coalition unitary authority has an annual budget of more than £1.1bn.
The proposals included less money for frontline services, hundreds of job cuts and a council tax rise of just under 2%.
Many proposed amendments were put forward during the debate.
Calls by a trio of Liberal Democrat, Independent and Green members for a 6% rise in council tax to try and negate the impact of savings plans were rejected.
Conservative leader Fiona Ferguson said that proposal "lacked realism".
The vote passed with 69 in favour with 21 against and 19 abstained.