Ancient remains of church on Cornish beach unearthed again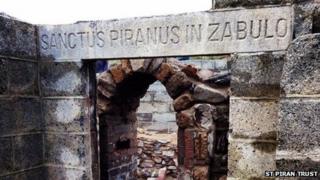 The remains of a 6th Century church on a Cornish beach have been successfully excavated.
The remains of St Piran's Oratory - buried at Penhale Sands, near Perranporth - are believed to be among the oldest places of Christian worship in Britain.
A team of 90 volunteers dug by hand to reveal the remains which had been covered for more than 100 years.
Open days for the public will be held on 22 and 23 November.
Ian Saltern, company secretary for St Piran's Trust, said: "It's in a better state than we could have hoped for. The preservation is pretty good for a building that is more than 1,000 years old."
The remains of the oratory were first discovered in the late 18th Century.
There were then two major digs in 1835 and 1843 before the remains were encased in a large concrete structure in 1910.
The concrete structure was removed in 1980 and the delicate site buried in sand for its own protection.
The most recent dig, managed by Cornwall Council's historic environment service, was postponed from March due to the wet weather.