British troops arrive in Sierra Leone to fight Ebola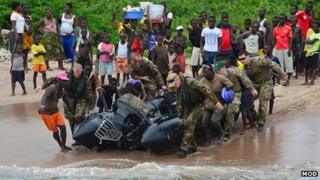 British troops brought to Sierra Leone to help with an Ebola outbreak say they have had an "overwhelming" reception.
A large crowd of locals came out to meet Royal Marines who went ashore to carry out survey work.
RFA Argus, based in Falmouth, Cornwall, transported troops and support staff to the region.
The men, from 539 Assault Squadron Royal Marines (ASRM) and 42 Commando, both based in Plymouth, Devon, went ashore at Lungi Beach.
Sgt John McDonald, of 539 ASRM, said: "The reception we received was overwhelming. I'd say that more than 150 people met us when we landed on the beach.
"We explained that we were there to carry out survey work and they really wanted to help by providing us with local knowledge."
More than 1,500 people have died from Ebola in Sierra Leone with approximately 5,000 deaths from the virus in total in West Africa.
The Argus transported three Merlin Mk2 helicopters from 820 Naval Air Squadron, as well as landing craft and boats which will be used for moving stores, equipment and personnel inland along the Sierra Leone river network.