Sailor Cezary Siuta dies after blast on MSC Flaminia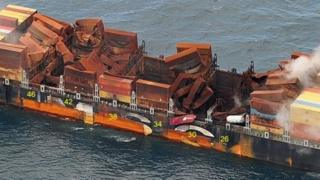 A sailor died from severe burns following a chemical blast on a container ship in the Atlantic Ocean.
First Officer Cezary Siuta died on 14 July 2012 after a fire and explosion on the German-owned MSC Flaminia.
An inquest at Truro City Hall heard Mr Siuta died on board the German oil tanker DS Crown that rescued the crew.
Cornwall assistant coroner Barrie van den Berg recorded a narrative verdict and said Mr Siuta died following the explosion.
In a separate report, the German Federal Bureau of Maritime Casualty Investigation (FBMCI) said "released gases" were the most likely cause.
The Flaminia, owned by Reederei NSB, was about 1,000 miles off land travelling from Charleston, South Carolina to Antwerp, Belgium, when fire broke out shortly after 5am on 14 July.
Recommendations made
Regarding the cause of the fire Harald Erdbeer, investigator with the FBMCI said having sailed from Charleston, temperatures were "probably hotter than normal".
The inquest heard CO2 was released into the hold to try to cool the area on fire.
Three men died following the fire and explosion. The body of Mr Siuta was brought to Falmouth.
Seaman Ramon Parcon was also presumed dead after his body was never recovered and oiler Rolando Gatiera reportedly died in Portugal on 8 October 2012 from severe burns.
Mr Erdbeer said recommendations had been made to the German government to introduce new regulations so container ships could use sea water to cool an area on fire.
A report published by the FBMCI said it was "a distinct possibility" that the chemical dimethylaminoethanol could have leaked from containers and caused the fire.