Prince of Wales orders grey squirrel cull on estate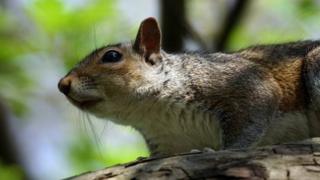 The Prince of Wales has ordered a cull of grey squirrels on the Duchy of Cornwall estate in an attempt to protect the indigenous red variety.
The estate will employ "humane and lawful" methods to control the grey population.
Grey squirrels carry a poxvirus which is deadly to the red species.
There are thought to be approximately 2.5 million grey squirrels in Britain compared to an estimated 140,000 red squirrels.
A spokesman for Prince Charles said: "The red squirrel is a most cherished and iconic national species, and, as patron of the Red Squirrel Survival Trust, The Prince of Wales keenly supports all efforts to conserve and promote their diminishing numbers.
"Where appropriate, this includes the humane and lawful control of grey squirrels as well as other measures to enhance the natural habitat of reds across the Duchy of Cornwall estate, in accordance with established estate management practices."
The Forestry Commission said grey squirrels were "extremely destructive" in woodlands and have a "major impact" on conservation, biodiversity and sustainability.