Elvis impersonator Derrel Weaver jailed over guns offences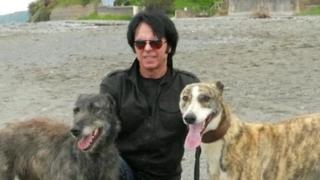 An Elvis impersonator who sparked a 24-hour armed police manhunt that led to a primary school being closed has been jailed for illegal gun possession.
Derrel Weaver, 60, was arrested in woodland after a domestic incident at his home at nearby Widegates in Cornwall in June.
Weaver, lead singer in the Elvis Presley tribute band DW and the Road Rockets, was jailed for five years.
He kept illegal ammunition in his "Elvis shrine" room, the court heard.
Village locked down
Appearing at Exeter Crown Court, Weaver admitted nine offences of possessing firearms without certificates and two charges of possessing ammunition without certificates.
He also admitted possessing a firearm not of the specified length.
Police locked down the village when he went missing following the domestic incident at his farmhouse. The school was closed and the 75 pupils ordered to stay at home.
The court heard police searched the farmhouse where they found a revolver and a shortened hammer shotgun, which were illegally owned and belonged to his father who served in the special forces.
He also had five other guns which were illegally owned because he did not have firearms certificates.
'Potentially dangerous situation'
He also had a stock of illegal ammunition which was found in the room called the "Elvis shrine".
The defence said the old guns had not been used, were only kept for sentimental value and that he could not go to register them as he had kept them illegally for too long.
Speaking after the sentence, Det Insp Ben Beckerleg of Devon and Cornwall Police defended the scale of the search for Weaver.
He said: "At the time officers responded appropriately to a potentially dangerous situation.
"It was resource intensive and the public's safety was paramount, and the incident was concluded safely without anyone being harmed.
"Following Weaver's arrest a number of firearms were recovered and these have been disposed of."