No need for £4.5m St Michael's free school, says NUT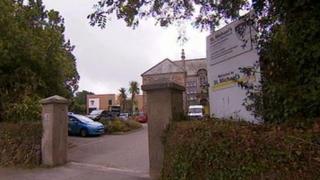 A Catholic free school in Cornwall has been branded a waste of money by a teaching union.
St Michael's in Camborne is Cornwall's first Catholic secondary and its only free school.
The school cost taxpayers more than £4.5m to start and received a "requires improvement" rating from Ofsted in May.
The National Union of Teachers (NUT) said there were surplus places in other schools nearby. The government said the school gave parents greater choice.
'Existing stock'
Free schools are state-funded schools started by parents, teachers or other groups.
St Michael's opened in September 2012 and has a capacity of up to 300 pupils. It currently has about 150 from across the county.
Figures from the Department for Education revealed it cost more than £700,000 to buy Camborne's former old grammar school to house St Michael's, and nearly £3.8m to build an extension.
The NUT said there were surplus places nearby and Cornwall Council was facing a £60m maintenance backlog in its schools.
Ian Williams, of the NUT, said: "If you look at the simple maths here, is it right to spend £4.5m when there is no need for a school in that particular area?"
Councillor Andrew Wallis, schools cabinet member at Cornwall's Liberal Democrat/Independent unitary council, said such money "could be spent on existing stock".
He said: "We don't necessarily need a new school, just new school facilities which could be a cheaper option than setting up a new school."
Nobody at St Michael's was available for comment.
The Department for Education said free schools offered good value for money with construction costs about 40% less than previous school building programmes.
A spokesman said it had also given Cornwall Council £32.5m to spend on school maintenance over the last four years.