Life of Brian screened in Truro for first time since 1979 ban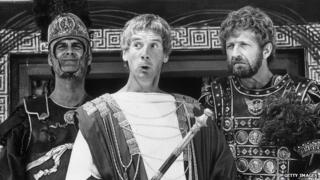 Monty Python's film the Life of Brian is to have its first ever screening in a Cornish city after it was banned by the council more than 30 years ago.
The comedy, about a man named Brian who is mistakenly hailed as the Messiah, was banned across the UK in 1979 for its "blasphemous" content.
Truro's Plaza cinema tweeted it would hold a charity screening of the film in December.
The city council said it would not enforce any ban.
'Funniest British film'
The movie tells the story of Brian Cohen, a young Jewish man born at the same time and near Jesus Christ, who is frequently mistaken for the Messiah and finally crucified.
But parallels with Jesus caused controversy on both sides of the Atlantic, with claims it satirised Jesus's life.
The Monty Python team has always rejected accusations the film was blasphemous.
The film was a huge box-office success, earning the fourth-highest takings in the UK in 1979, and the highest for any British film in the US that year.
BBC film critic Mark Kermode, who is to host the screening, said the film "considered by many to be the funniest British film ever made", had never had its ban in Truro rescinded.
Truro City Council clerk Roger Gazzard said he was uncertain if any ban was still in force, but he did not the think the council would impose it for the planned screening.
He said: "It's up to people if they want to watch it or not."
The Life of Brian currently has a 15 certificate from the British Board of Film Classification.