Wildlife camera found by beach clean youngsters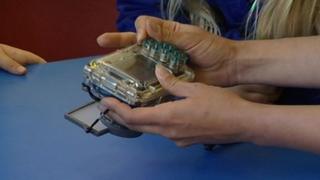 A valuable camera lost by a diver from the Cornwall Wildlife Trust team has been returned thanks to children from St Mary's School in Penzance.
The youngsters were doing a beach clean when they discovered the underwater camera and used social media to reunite it with its owner, Cat Wilding.
The camera, worth £500, is used to capture life underwater for surveys.
Ms Wilding said she was "amazed" the camera had been found and said it was "key" to the trust's work.
She had been carrying out a sea-search survey near Mounts Bay in west Cornwall when the equipment went missing.
Ms Wilding said: "I thought I had secured it with the Velcro lid on my pocket but, by the time I reached the surface, the camera was lost.
"I had no expectation of ever seeing it again."
St Mary's teacher Daniel King said: "The children had picked up quite a few bags of rubbish by that time and one of the children picked up the camera.
"To switch it on and see the amazing wildlife was incredible."
The school put out a message on social media saying it had found the camera and within three hours Ms Wilding was in touch with the school.
She said: "I was just amazed. I couldn't believe it. But also this was while youngsters were doing a beach clean for marine conservation. It's just fantastic."