Dawn French named as Falmouth University chancellor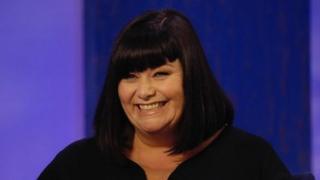 Comedian Dawn French is to become the new chancellor of Falmouth University.
The writer and performer, 56, said she "jumped at the chance" because she had trained to be a teacher and "always had a keen interest in education".
She will be officially welcomed at a formal installation ceremony in March.
The former arts college was inaugurated as a university in May last year. Vice chancellor, Professor Anne Carlisle, said the institution had "searched carefully for the right individual".
'Perfect figurehead'
Ms French, who lives in Cornwall, said: "Falmouth's ties with the creative industries are what attracted me.
"It's a beautiful place with so many subjects that are close to my heart."
Professor Anne Carlisle said: "Dawn is the perfect figurehead and inspiration for our students.
"Her passion and enthusiasm for the role and the university has already been infectious and she has a life-long association with, and total passion for, Cornwall."
The TV star played Geraldine Granger in Richard Curtis' BBC One sitcom The Vicar of Dibley from 1994-2007.
She has also starred in comedy sketch show French and Saunders with Jennifer Saunders, and Jam and Jerusalem.