Ofsted highlights Cornwall free meal pupils exam concern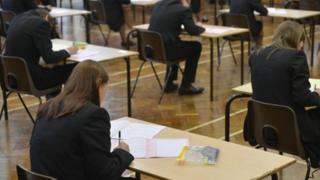 Cornwall is one of the worst-performing areas in the country for GCSE achievement by pupils on free school meals (FSM), Ofsted has revealed.
One third of secondary pupils eligible for free meals in Cornwall achieved five good GCSEs in 2013, it said.
The watchdog has organised a series of special workshops for school leaders to address the problem.
Cornwall Council said the school performance of the poorest children was a priority.
Tom Winskill, Ofsted's senior inspector, said: "We want to raise awareness of the performances of disadvantaged children and share successful strategies.
"We want schools to go away thinking about what they're going to do to improve the achievement of free school meal children."
Menu priority
Nationally, 38.1% of FSM pupils gain five or more GCSE A*-C, including English and maths, compared with 64.8% of their peers.
In Cornwall, the figure stands at 33.6% of FSM pupils compared with 62.6% of their peers.
It means about 400 of the 613 pupils on free meals in Cornwall did not achieve five good GCSE grades in 2013.
Andrew Wallis, Cornwall Councillor in charge of schools, said: "What we are trying to do is start early on to make sure the gap is being closed as quick as possible. It has to start in early years."
Two years ago Tregolls School in Truro was in special measures, but a recent inspection gave the school good and outstanding grades for behaviour and safety, with many outstanding features.
Matt Middlemore, the school's head teacher, said: "You must ensure you get your supplier and menu right. We now source all our food within 20 miles of the school."
Workshops will take place in Cornwall and Plymouth.