National recognition for St Ives archive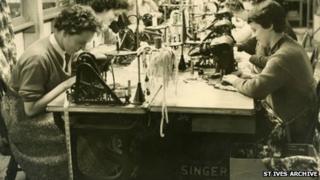 A Cornish archive has won a national award for its project collecting the memories of women in industry in the west of the county.
The St Ives Archive holds photographs and memories of the women textile workers from the past.
The award, sponsored by the History Press, was given to the archive for its "careful documentation of the research".
The archive's team said the award was "exciting news".
'Very impressive'
The project recorded St Ives' textile industries and aimed to give women workers a voice in putting over their own history, managers said.
Volunteers at the archive organised a series of events so past employees and the community could meet and exchange memories and record accounts.
The award judges said: "This is very impressive.
"The project was inspired by a member of the general public and has brought together a wide range of different researchers and resources across the community to shed light on a group of women workers who were truly hidden from history.
"The careful documentation of the research and YouTube video will ensure the research has a legacy for others interested in exploring this area of women's history."
Archive heritage manager Janet Axten said: "This is very exciting news. Everyone should be congratulated for the enormous amount of work they have done towards achieving this prize."