Extra £10m spent on 'ice risk' Dobwalls bypass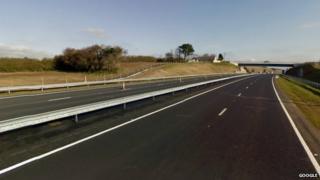 A multi-million pound dual carriageway which opened six years ago is to have a further £10.6m spent on it to prevent ice forming on the road.
The A38 Dobwalls bypass in Cornwall opened in 2008 and cost about £53m.
The Highways Agency said lanes had been closed during winter months because surface water could freeze causing an "ice risk".
A one-mile (1.6km) section of the two-mile (3.2km) dual carriageway will be reconstructed, it added.
'Essential'
Stephen Coe, Highways Agency project manager, said: "It's not acceptable that we have to close off a traffic lane each winter because of the build-up of water and ice, so we will reconstruct this section of the road to rectify this.
"The work we are carrying out is essential to maintain safety on the A38 in this location.
"We are working with Cornwall Council and our contractors to minimise the disruption to road users and residents during the construction work."
During the work, traffic will be directed into a contraflow on one carriageway providing single lane traffic in each direction.
The project, which is funded by the agency, will start on 22 September and is expected to end in mid-2015.