Cornish Gorsedh bards initiated at Torpoint ceremony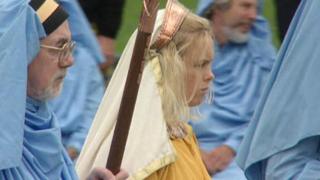 Hundreds of people have attended the traditional Cornish Gorsedh ceremony in Torpoint.
The Gorsedh was established in 1928 to celebrate and promote Cornwall's distinctive Celtic culture.
The members, Cornish bards, are known for wearing distinctive blue robes during the ceremony.
One of the highlights of the event was the inauguration of 23 new bards, representing music, drama and cultural heritage in Cornwall.
'Spectacle of colour'
Stephen Lawry, from Heamoor in west Cornwall, who was recognised for his contribution to Cornish music, said: "It's a major honour for anybody who is Cornish to be asked to become a bard. It's very humbling."
Another new bard, Anna Murphy, has spent many years working with the Cornish company Kneehigh Theatre, as well as having plays broadcast on BBC Radio 4.
In ancient Celtic history, bards were story-tellers, poets and singers.
Maureen Fuller, the Grand Bard of Cornwall, said: "Our ceremony always provides a spectacle of colour with the blue robes of the bards and the myriad of banners from the many Cornish organisations that come together to celebrate our Cornish culture.
"We are especially proud this year because the government has recognised the Cornish as a distinct group under the Council of Europe's Framework Convention for the Protection of National Minorities."