Rock photographer inspired by Victorian camera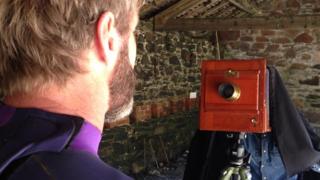 A photographer from north Cornwall has ditched digital equipment to produce images using an authentic Victorian wet plate camera.
Nick Reader from Rock has taken pictures of local people, fish and plant life using the camera, which he purchased from an online auction.
The photo process was mainly used between 1850 and 1880.
Mr Reader described the process as "cumbersome and time consuming" but said it was producing good results.
He said: "In 1850, a chap called Frederick Scott Archer invented a process called wet plate collodion.
"It meant people could suddenly have their portrait taken because the exposure time reduced from 30 minutes to a few seconds. It became a huge trend."
Mr Reader, who also takes pictures with modern digital equipment, spent a year collecting all the chemicals he needed to take the Victorian style photos.
He said: "People ask why I bother with such a difficult process when modern cameras make things so efficient. It does present a lot of challenges.
"I don't want convenience to be the deciding factor in the decisions I make. I try to see the difference between simple things and the convenient option."
"There's authenticity in the images. When the plate comes out it's a one-off, an original. It creates something unique."
Kris Lannen, one of Mr Reader's models, said: "I was told I had an interesting face. I am a bit of a weathered old surfer with a good beard. I can't wait to see the finished article."
Mr Reader's photographs can been seen in his exhibition at the Rock Institute from Monday.
Mr Archer did not patent his Victorian invention and died in "impoverished circumstances", according to the website set up in his memory.