Isles of Scilly helicopter link 'could reopen in 2015'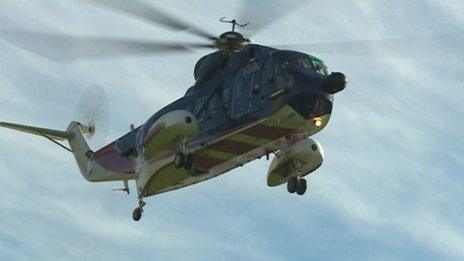 A helicopter link from Penzance to the Isles of Scilly could be reopened, a Cornish MP has announced.
St Ives MP Andrew George said talks were progressing well for passenger helicopters to return in 2015.
Tourism operators on Scilly said the price of a flight would have to be right for it to be successful.
Two companies approached by the BBC - EasyJet and Ryanair - refused to comment on "speculation" two airlines were interested in the venture.
At the time BIH cited rising costs and falling passenger numbers.
Mr George and Graham Cole, the chairman of AgustaWestland, the Anglo-Italian helicopter company, have "jointly expressed" their optimism over a potential helicopter service.
Mr George said: "When I asked AgustaWestland last year to help with plans to re-establish the service I was encouraged by their willingness to engage.
"Following our [recent] meeting I am more confident."
AgustaWestland previously said it would offer the first helicopter off the production line at a cheap rate to encourage someone to set up a commercial service to Scilly.
John May, who runs a camping facility on St Mary's, said: "Wherever possible you have to offer the customer what they need, but you have to keep the cost as low as we can."
The Council of the Isles of Scilly said: "The council welcomes any initiative that brings an additional mode of transport to the islands.
"The council is not involved in discussions between commercial operators at this stage."
Ryanair said it did not comment on what it called "speculation". Flybe said it was "unfortunately unable to comment".
Related Internet Links
The BBC is not responsible for the content of external sites.