Duchy of Cornwall reviews St Mary's harbour ownership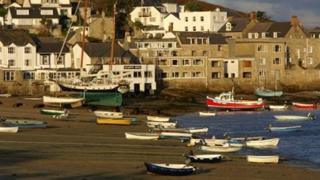 The control of a harbour on the Isles of Scilly may be handed to the local community, its owners have said.
The Duchy of Cornwall said the move followed the securing of funding for an extension to St Mary's harbour.
However, critics said the move would strengthen the contentious argument the Duchy was a private estate not subject to Freedom of Information requests.
The Duchy said no decision would be made until everyone involved in the harbour had been fully consulted.
Oyster farm row
The Duchy of Cornwall is effectively the Prince of Wales's business organisation.
In 2011 Michael Bruton won a landmark case over an FOI application about an oyster farm in Cornwall, which meant the Duchy had to reveal environmental data.
The Duchy claimed it was a private estate and so did not have to tell him anything but the Information Rights Tribunal ruled the Duchy functioned as a public authority and so Mr Bruton had the right to the data.
The decision redefined the Duchy, a 700-year-old private institution, as a public body, leaving it open to further challenges.
A major part of that ruling rested on the Duchy's ownership of St Mary's harbour.
The Duchy is appealing over the case. Critics claim if it divests itself of the harbour it would have a stronger case to argue it was a private estate and not liable to Freedom of Information requests.
'Right way'
Some harbour users have given the news a cautious welcome.
Fraser Hicks, a local boat owner, said: "I think it's the right way to go. I think it would be more open with a public interest company."
In a statement the Duchy said: "The review is taking place following the funding for an extension to the harbour.
"The hope is that we will be able to find a management arrangement which allows for more community engagement.
"The review is also taking place in light of recent litigation, which has thrown up questions about the potential implications of the Duke of Cornwall's status as the Statutory Harbour Authority for St Mary's."