Looe hits back over 'brash' AA 'kiss me quick' critique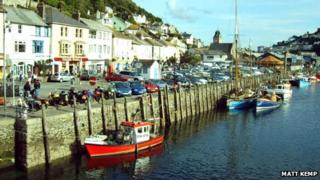 The Cornish resort of Looe has slammed an AA Guide review describing it as "brash" and "full of kiss me quick hats".
The AA Guide to Cornwall also said Looe was a place "you won't find the traditional Cornish thatched cottages or peaceful walks".
Traders have threatened to withdraw membership of the guide, describing the review as "not a true view of Looe".
The AA apologised and promised to reword the review in its next edition.
'Rubbish the town'
The review blamed railway links for turning Looe into a tourist destination, and the French for stopping the "leisured classes" holidaying on the continent.
Locals and holidaymakers have taken to social media websites about the review, with one visitor from York saying the reviewer needed "a trip to a well known opticians" and another saying it was "a very narrow perspective".
Gill Bridges, whose Polraen Country House is advertised through the AA, said: "I feel like pulling my membership.
"Why should I pay a company to advertise when they then rubbish the town I trade in?"
Town crier Roger Bennett said he would offer take the author on a walk around the town to "let them see and hear the quality of life in Looe".
In a statement, the AA said: "Looe is a very popular place with plenty to offer visitors of all ages and we apologise for any offence that may have been caused by the wording used in the introduction.
"The section on Looe does highlight the array of great places to visit, however, with hindsight we agree that the opening could have been worded more sensitively.
"We will work with the author to reword the introduction and this will be included in the next reprint of the guide."