St Ives fishermen find body floating in sea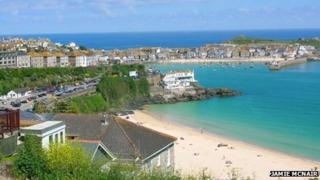 A man's body has been found in the sea off a Cornwall seaside resort by fishermen.
Police said the crew of a St Ives fishing boat spotted the body at 09:20 BST and brought it in to shore.
They said it was not yet known if the man, aged between 35 and 50, was local and they were seeking to identify him.
A Devon and Cornwall Police spokesman said the body was brought into Smeaton's Pier and they do not know if the death is suspicious.