Cornwall being 'invaded' by housing, say campaigners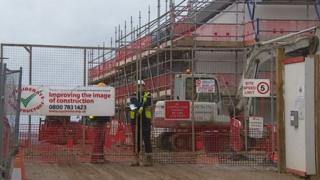 The speed and scale of house-building in Cornwall has been branded "an invasion" by rural activists.
The Campaign to Protect Rural England (CPRE) claims housing growth in the county, in relation to population, is faster than elsewhere in the UK.
Cornwall Council has agreed to allow 47,500 new houses to be built over the next 16 years.
The council says it has about 30,000 people on its housing waiting list and needs new and affordable homes.
Orlando Kimber, of the CPRE, said developers were choosing cheap land and winning planning permission too easily.
"We think local people need to be involved in that process," he said.
Cornwall Council said it did engage with communities but meeting housing needs while protecting the countryside could be a challenge.
Councillor Edwina Hannaford said: "We've got policies that protect our AONBs (Areas of Outstanding Natural Beauty) and SSSIs (Sites of Special Scientific Interest) and all those protected landscapes, but there's still housing needs in those areas and we have to strike a balance."
In 2011 the National Housing Federation found that average house prices in Cornwall were 13 times the average annual wage.
Lack of supply was blamed for this.
Bodmin estate agent Ritchie Bartlett said demand for housing was strong.
"It's definitely a good idea to protect the attractive rural and coastal areas of Cornwall but there's big demand in Bodmin," he said.
"There's a shortfall of housing here with lots of people looking to buy and rent."
Cornwall is second in a table behind Birmingham of affordable homes built outside London in the past four years, according to government figures.