Crowds line cliffs for ship parade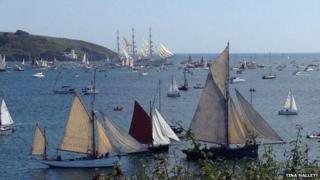 Thousands of people lined the beaches and cliffs around Falmouth to witness a "Parade of Sail" on Sunday afternoon.
More than 40 ships from around the world took part, joined by up to 1,200 smaller local vessels.
It is the fifth time Falmouth has hosted the tall ships since they first visited in 1966. In 2008 the event attracted more than 100,000 visitors.
The parade marks the start of the tall ships' race to London.