Attraction hopes for Trebah Garden's new amphitheatre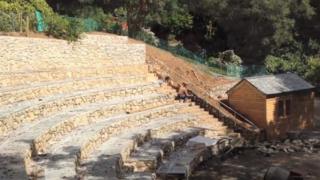 Staff at a garden in Cornwall say they hope a newly-completed amphitheatre will attract performers from around the county and further afield.
Work on the 250-seat space at Trebah Garden, near Falmouth, began two years ago. It has been constructed using local granite.
Staff decided to construct the amphitheatre after they had to clear the site of diseased shrubs.
Its first production is Shakespeare's The Tempest.
Much of the construction work has been carried out by head gardener Darren Dickey, who said it was a "lovely thing to be a part of".
He said: "It certainly has been a challenge, digging the site out and preparing the stage area.
"It's in a great position in the garden. A natural steep bank has been terraced into."
Garden director Nigel Burnett said: "We get a lot of travelling theatre companies looking for venues.
"I suspect next year we will work with six or seven different acts, but I'm determined to roll it out in a gentle way and support, where we can, the local creative arts community."
The first performances are Friday and Saturday night, with local company Miracle Theatre bringing its production of The Tempest to the stage.