Cornwall health trust merger could 'revolutionise' care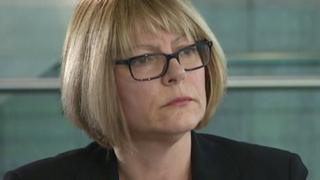 Healthcare services in Cornwall should be merged to "revolutionise" care, the chief executive of the Royal Cornwall Hospitals NHS Trust has said.
Lezli Boswell has written to staff saying the existing arrangement between the trust and two health bodies was not the best way to provide healthcare.
She said the trusts would be "better together".
Simon Rix, of Cornwall Council's health and adult care committee, said a merger was the "right thing to do".
Currently the Royal Cornwall Hospitals Trust is responsible for emergency and serious medical care.
Cornwall Partnership NHS Foundation Trust has responsibility for adult mental health care and Peninsula Community Health is responsible for Cornwall's "cottage" hospitals.
In her letter to staff, Ms Boswell, said: "You may be aware that Cornwall Partnership NHS Foundation Trust and Peninsula Community Health are currently exploring a merger and I am keen that Royal Cornwall Hospitals NHS Trust is part of that discussion.
"It also makes sense financially and many of you hopefully realise that the way services are currently configured is not sustainable and in truth not the best way to provide healthcare."
Earlier this month Ms Boswell said the trust was facing "significant financial challenges".
She said one integrated NHS provider would "mean significant changes for all of us individually and collectively" and could mean the trust agreeing not to pursue NHS Foundation Trust status.
She described a merger as a "once-in-a-generation opportunity to revolutionise healthcare for the local community".
Mr Rix said: "It wouldn't be fair on patients to keep the current outdated structure we have in Cornwall.
"We do need to reduce the layers of bureaucracy and focus more on the frontline care."
John Evers of Healthwatch Cornwall said: "I am personally delighted that there is a possibility that integration may soon occur between the major health providers in Cornwall."
The group said it had contacted the trust for more information.