Fowey boat search stood down as marine theft is suspected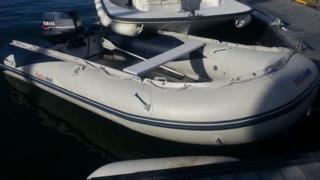 A four hour air and sea search in Fowey has been stood down as rescue teams now believe it was a marine theft incident.
The search was sparked after a boat was found adrift with its outboard motor running at about 03:00 BST with nobody aboard.
Two lifeboats, harbour patrol boats, a police rib and a rescue helicopter from RNAS Culdrose were involved.
Paul Thomas, the harboumaster in Fowey confirmed the search had been suspended.
Mr Thomas said: "We think the cause was regrettably marine theft.
"Someone would have stolen the boat and when they had finished, they would have just kicked the boat adrift with the engine running, which sparked the alarm in the first place.
"We've been searching for almost four hours and are confident that if anyone had been in the water we would have found them."
Mr Thomas said it had been "deeply frustrating".