Trewithen Dairy finds cleaning product in milk and cream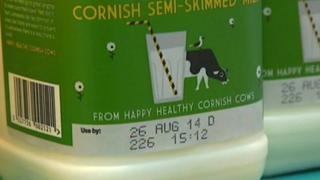 Cleaning product has been found in a Cornish dairy's milk and cream after customers complained about the taste.
Trewithen Dairy, based at Lostwithiel, said a "small amount of industry-standard cleaning product" was found and products were being withdrawn.
It said whole, semi and skimmed milk dated 25 and 26 August and liquid cream and clotted cream dated 26 and 27 August had been affected.
It added: "We are not aware of any danger to health."
The company said it was alerted to the problem by several customers who rang in claiming their milk did not taste right.
Rebecca Kirk, from Cornwall Council's Environmental Health, which is working with the firm, said it was "a very good reputable company".
Managing director Bill Clarke said that at one of the supply farms a small amount of cleaning fluid had contaminated the milk.
He said: "We are taking all possible steps and precautions and have reacted immediately with an instant withdrawal and replacement for product that may have been contaminated.
"We know which customers have received these products and are now collecting and replacing anything at risk."
'Apologise profusely'
He confirmed the environmental health officer and Food Standards Agency had been informed.
Mr Clarke said: "If any members of the public have purchased Trewithen Dairy products with the above dates over the last two days and would like a replacement, they should not hesitate in returning it to their retailer who will provide a replacement.
"We apologise profusely for this unfortunate error and can confirm that this issue has been contained within these products so that our yoghurt, butter, crème fraiche and buttermilk are not affected."