Passengers of Western Greyhound buses complain about late and cancelled services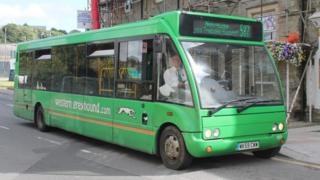 Passengers in Cornwall have complained about increasingly late and cancelled services from Western Greyhound buses.
The bus company said it was facing a "frustrating situation" caused by summer traffic and winter floods.
Other complaints included breakdowns en route and passengers having to take taxis or phone friends when they find themselves stranded.
One man has started a Facebook page to gather evidence to present to the company and Cornwall Council.
Jason Higgs from Liskeard runs the social media page Western Greyhound Where's My Bus, which has more than 700 followers.
He said: "The general theme is buses not turning up - we're not just talking about late buses, but buses that should turn up.
"I think the main issue there's no communication from the bus company.
"I know there are three to 10 non-running buses each day."
BBC Radio Cornwall has received emails from elderly people who said the service was getting worse.
A cancer patient said she could not rely on her service from St Agnes to make her appointments.
Staff who did not want to be named said morale was low because so many passengers were venting their frustrations.
Mark Howarth, the managing director of the bus company, said: "We're going through some very serious problems at the moment.
"A lot of effort is going on behind the scenes. We're definitely not happy with it.
"Earlier this year there was a lot of floods and bad weather which went on for months which has caused mayhem for our buses."
Mr Howarth said preventative maintenance was taking place more regularly to make sure "buses are safe and roadworthy".
He said it was a "frustrating situation".