RNLI lifeguards at Polzeath beach rescue 32 in one hour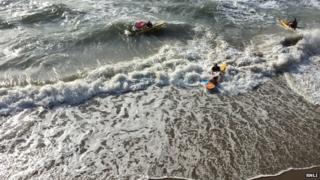 RNLI lifeguards at Polzeath beach in Cornwall rescued 32 people in one hour following a high tide, strong winds and a large swell.
The team helped seven swimmers and 25 body boarders between 18:00 BST and 19:15 on Monday after they fell off the sandbank and into the current.
Lifeguards have urged people to take extra care in the conditions.
Lifeguard Ben Miskowicz said: "The winter storms have changed the typography of Polzeath."