'Bodmin war hero' James Finn remembered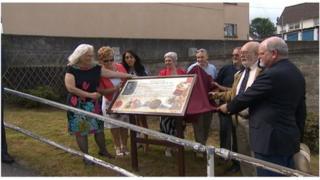 A plaque has been unveiled in Bodmin to honour Pte James Finn who won the Victoria Cross during World War One.
Pte Finn, who was brought up in the Cornwall town, won the honour for bravery while under Turkish machine gun fire in Mesopotamia, now part of Iraq.
After a night attack on 9 April 1916 he bandaged several wounded men and returned twice to carry two soldiers to safety.
His niece Rita Solanki said the family was immensely proud.
Pte Finn was wounded but survived the night attack, only to be killed in action at Ypres on 30 March 1917.
The plaque is on the Finn VC Estate, named in his honour in 1966.
"I think he was a very unassuming man and what he did I can't put into words," said Ms Solanki.
"Where do you get that courage from?"
Mayor Andy Coppin said: "He is Bodmin's war hero. I have lived here all my life and he is a very well known figure in our history.
"It is great that we have remembered him this way."