Money raised to restore poet Jack Clemo's writing desk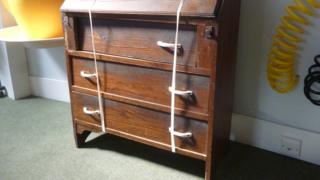 An appeal to restore the desk where Cornish poet Jack Clemo worked has reached its target, a museum says.
Jack Clemo, who lost his sight as a young man, won several awards and praise for his poetry about Cornwall.
The desk is on view at the Wheal Martyn China Clay Museum in St Austell.
An anonymous donor has given £300 to repair the desk and money pledged by others would be used to restore his "equally fragile" bookcase, staff said.
'Fantastic result'
Jack Clemo was born in Goonmarris Slip, in the heart of St Austell's china clay country, in 1916. He died on 25 July 1994.
His poetry and prose became internationally recognised and in 1951 he won a Festival of Britain prize.
His "modest, shabby" desk is to have damaged wood repaired and missing hinges replaced.
The museum said it hoped the desk's restoration work would be carried out in the autumn.
Clemo produced works including Wilding Graft, which won an Atlantic Award and a collection called The Clay Verge released in 1951.
In 1970, he was crowned Poet of the Clay at the Gorsedd - Cornwall's unofficial national assembly.
He also received an honorary doctorate from the University of Exeter.