Jonathan and Derisa Trenchard inquest: Husband 'paranoid' about relationship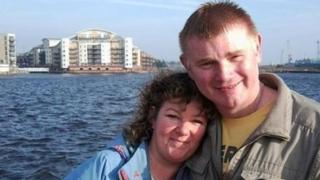 A man found dead alongside his wife had become convinced she was having an affair, an inquest has heard.
The bodies of Jonathan and Derisa Trenchard were found at their home in Carbis Bay, Cornwall, last October.
Mrs Trenchard, 48, died from head injuries and her husband, 50 had suffered stab wounds.
He had become paranoid and needed constant reassurance about their relationship, the inquest in Truro was told.
The court heard the pair were devoted to their three sons and had a seemingly happy marriage.
However, in statements their two oldest boys said they noticed a marked change in their father's behaviour.
They said he had convinced himself Mrs Trenchard was having an affair, even though they told him it was extremely unlikely.
The court also heard from Mr Trenchard's work colleagues, who said he changed in the months to up the deaths and had been advised to seek medical help.
They told how Mr Trenchard, who worked at an engineering plant in Redruth, had lost a lot of weight, stopped talking to people and lost his temper frequently.
He began talking to himself about his suspicions about his wife and once said if she and their sons left him, he would drive them all over a cliff, his colleagues told the hearing.
Mr Trenchard was advised to seek medical help and was referred to a counsellor by his GP and offered medication.
The inquest, expected to last two days, continues.