Charity rowing pair reach Isles of Scilly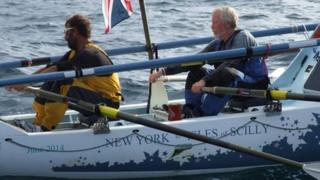 Two men who have rowed about 3,500 miles have crossed their finish line at the Isles of Scilly.
Elliott Dale and Chris Walters, who row for the Cornish Gig Club in Lyme Regis, set off from New York to cross the Atlantic almost two months ago.
They battled the tail end of Hurricane Arthur and blistering heat.
It is believed the pair have set a record in land-to-land open-class pairs rowing, although this has not been officially verified.
A flotilla of local boats greeted the rowers when they arrived at St Mary's on the Isles of Scilly.
Mr Walters said: "It's been incredible. I think we were greeted by 30 boats. I've only seen Elliott for the last 60 days, so it's a shock to see so many people.
"The standouts of the trip include the marine life, which was incredible. We saw dolphins play around the boat everyday."
The rowers set off from New York on 7 June hoping to follow in the footsteps of George Harbo and Frank Samuelson, who crossed the Atlantic in 55 days in 1896.
The 3,246-mile (5,224 km) route from New York to the Isles of Scilly is considered to be among the most testing of all Atlantic crossings.
The pair hope to raise more than £250,000 for Children's Hospice South West which has premises in Cornwall, Devon and Somerset.