'Shed of the Year' finalist in council planning row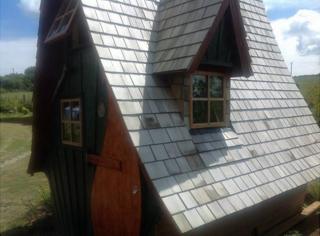 A 'Shed of the Year' finalist who lets his garden shed out to holidaymakers has been told to remove it because it does not have planning permission.
Jonathan Melville-Smith, from St Keverne, Cornwall, said passers-by often take photos of the structure.
Cornwall Council said he needs to get planning permission and the issue has been passed on to the authority's enforcement team.
Mr Melville-Smith features on Channel 4's Shed of the Year programme.
His shed was a finalist in the 2014 "most unique" category.
Neighbours have complained to the council and an anonymous email to the BBC claimed nearby residents were "greatly concerned".
'Pixies and fairies'
Mr Melville Smith freely admits the building does not have planning permission.
"At the time I didn't really think garden sheds needed planning permission," he said.
"I didn't set it out as a holiday let. I suppose I thought at the time, 'It's a shed'."
He is applying for a change of use for his garden which also contains a tree house and two gypsy caravans, which he also lets.
Planners say the structure has an adverse visual impact on an area of outstanding natural beauty and they will not support his application.
"Lots of people stop and take photographs and say how special it is to see something so unusual," he said.
"It's sort of a wibbly-wobbly shape and has a door that looks a bit like a flame and reminds people of pixies and fairies."
Farm traffic keeps local roads busy year-round, said Mr Melville-Smith, whereas his customers were only around in the summer and also used other local businesses.
He said he stands to lose his livelihood.
Channel 4 said the row was a matter between Mr Melville Smith and the planning authority.