Hundreds sign boy's Falmouth Library campaign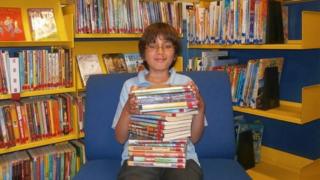 A 10-year-old boy has launched an online petition to try and get his library's opening hours extended after they were slashed by the council.
Leon Remphry, from Falmouth, Cornwall, has garnered more than 2,500 signatures in favour of his 'Write to Read' campaign.
He said he wants Cornwall Council to reverse its decision to cut the town library's opening hours.
The authority said "budget pressures" had caused the reduction.
Libraries across Cornwall have had their opening hours cut since June, with Falmouth opening 25.5 hours per week.
Volunteers
Leon said: "It's the only place you can take out 18 books for free and I love reading.
"But it's so much more than that, you can get the internet, DVDs, CDs and it's such a good place."
Leon has written to the council and Adam Paynter, the cabinet member for partnerships.
Mr Paynter said: "Obviously it's fantastic young people are using them and we want to encourage that.
"The problem we have with all libraries is not being able to afford to keep them open like we did in the past.
"We could have closed some of our 31 sites, but I didn't want that to happen and it is better to reduce hours slightly."
Cornwall Council said libraries could open for longer but only if volunteers were to take them on.
In February, the authority approved budget cuts of about £41m.