Carlyon Bay beach developers appoint architects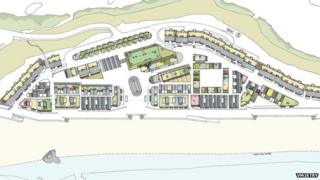 A £250m recession-hit beach resort says it is back on track with two teams of architects assigned to "create an innovative holiday destination"
CEG was granted permission in 2011 to build 511 apartments at Carlyon Bay, but the plans stalled.
The company said it was now seeing "encouraging signs in the economy".
Peter Price, from Carlyon Bay Watch, which has campaigned against the plans for a decade, said he was not convinced the site would ever be built.
Architects Pencil & Ink and Squire and Partners will be showing their concepts at two separate exhibitions.
Planning permission was first granted in 1991 for a complex and sea defences were built to protect the apartments and construction workers.
But when developers applied to upgrade the defences, opponents claimed they could damage the environment.
A public inquiry held in 2006 led to a rejection of the plans.
Mr Price said: "Since they've owned this site, this is fourth set of plans they've come up with.
"Not a brick has been laid. I'm not convinced they want to build anything. This is just another stage of something that's been going on for nearly a quarter of a century."
The site was previously home to the Cornwall Coliseum complex which hosted acts like Cliff Richard, Status Quo and The Who.
Sea defences were built but last year CEG was ordered to remove them by Cornwall Council.
The latest plans can be viewed at the Information Centre at Carlyon Bay until 13:00 BST on 19 July.