Fal mussel fishermen 'relying on Fishermen's Mission'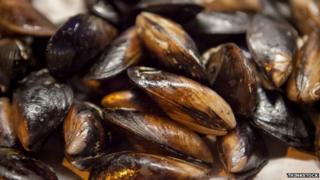 Mussel fishermen in Cornwall are having to rely on charity because pollution in the Fal Estuary has led to a ban on harvesting the shellfish, according to the Fishermen's Mission.
Routine water testing found levels of E.coli were above those permitted by the Food Standards Agency (FSA).
The Mission said it was supporting four families and 20 others had problems.
Fishing, food and water agencies said they were working to try and improve the water quality in the longer term.
'Next day, nothing'
Restrictions have been in place since the end of April after testing found high E.coli levels.
The deterioration in water quality has been blamed on two very wet winters which led to more run-off from farmland and increased sewage overflows.
Timmy Heard, who has fished for mussels for 20 years said he had help from the charity because "things are as tough as they can get".
He said: "We're earning nothing, but I can't give up. I've put too long into it to give up."
Keith Dickson, from the Mission - which is the only charity dedicated to helping fishermen, said: "They've been told they can't catch, and that's income gone in the blink of an eye. It's putting a huge financial burden on families.
"One day you're fishing quite happily. The next day, nothing."
Cornwall Council's port health manager for Falmouth Docks, Gary Cooper, said he was hopeful the fishery would be considered for an upgrade in status within eight weeks.
The FSA, Environment Agency and South West Water said they were working together and with the council to minimise pollution and to try and improve water quality in the longer-term.
More investment in sewage systems, increased water sampling and improvements to slurry storage on farms were all under way, they said.