Newquay hopes to host UK spaceport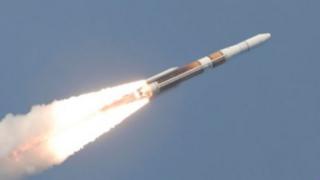 Newquay Airport is aiming for the stars as it hopes to be chosen as the UK's spaceport for satellite launches and space tourism.
Ministers want to establish the UK spaceport by 2018.
The Cornwall and Isles of Scilly Local Enterprise Partnership (LEP) said Newquay Airport had been identified as one of eight possible locations.
An announcement on spaceport options is expected to be made at the Farnborough Air Show on Tuesday.
Spaceplanes
Newquay is believed to be the only potential spaceport site in England, but there are six possible sites in Scotland and one in Wales.
Such a facility would house rockets and spaceplanes which would carry satellites, astronauts and even tourists into orbit.
Last week, chief secretary to the Treasury Danny Alexander said the government was "pushing forward with plans to open a spaceport in the UK by 2018".
For ministers and the space industry, the major interest in a UK spaceport is as a facility to enable satellite launches, but hopefully it would also become a centre for the new tourism initiatives from specialist operators such as Virgin Galactic and XCor.
A spokesperson for the Department for Business, Innovation & Skills refused to comment ahead of Tuesday's official announcement.