Demonstration against Cornwall care at home changes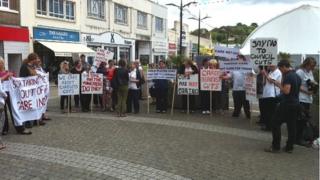 A demonstration has been held against Cornwall Council's changes to its care-at-home system.
The authority has reduced the number of companies with contracts to look after vulnerable people from 100 to under 30.
Critics said the move creates uncertainty among workers and clients. The council said it was being made to improve the quality of care.
About 50 took part in a protest in Truro, which saw many walk from Lemon Quay in the city centre to County Hall.
Service level concerns
Under the new system contracts were put out to tender and subsequently awarded to 29 companies with a further 41 allowed to bid for sub-contracted work.
The rate paid per hour of care provided has also been cut from more than £16 to £14.50.
Cornish disability rights campaigner Steve Paget MBE said: "If there is less money going to providers, and those services are being sub-contracted out, I cannot see how the same level of service can be provided."
Trevor Doughty, council corporate director for social care, said it was "not true" that "changes to the new Care Services at Home contracts will mean they receive less care in the future".
He said: "Almost half the people currently receiving care will see no change in their provider. At the same time we need to ensure that we deliver value for money and make the best use of our resources."
He added no changes would be made until after clients had been contacted and the council would be "monitoring the new contracts very closely over the next few months".